This year, I'm working on two book-length manuscripts. Quirk in Progress is an experiment in which I try to work on this in a public space once a month. Over time, I hope to have a lot of interesting conversations with folks, while you can follow the progress of these projects as well!
I'll be setting up at Puck Provisions (618 Serangoon Rd, #01-01, Singapore 218220) and people are invited to come hang out during the afternoon!
The main book I'm working on is Identikit, a book-length essay in five parts about identity, catastrophe, and the weight of time. The other project is still in early planning stages, but it should be a psychological drama-type novel.
Please come and hang out. You can cheer me on, ask questions, just sit and watch, or chat about writing, creativity, process, failure, and coffee.
Each month there will be a theme, as well as two prompt questions. We can chat about the theme or not at all!
There will also be index cards to leave me questions, words of encouragement, doodles, or any other fun things in my "guestbook". I'll be responding to these on Instagram and maybe in a collected thing right at the conclusion of Quirk in Progress!
[This design is set in Blackout and League Spartan from The League of Moveable Type]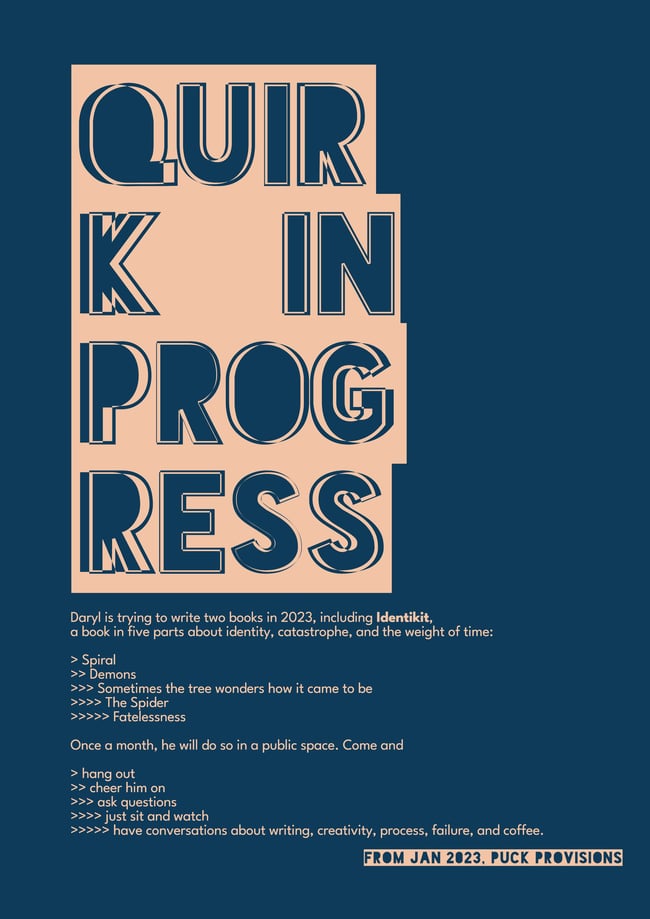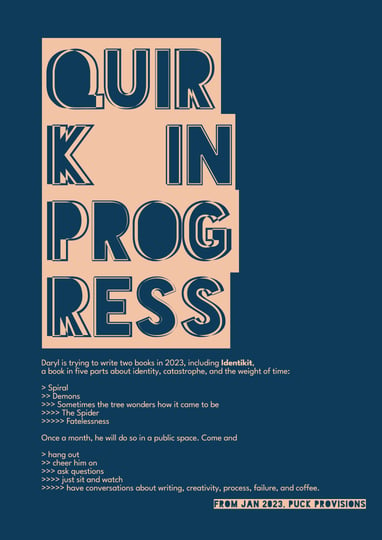 January: 28 January 2023, Saturday
Theme: Beginnings

February: 18 February 2023, Saturday
Theme: Best Laid Plans
Apologies! We will NOT be running this session due to unforeseen circumstances!


HIATUS IN PROGRESS details here

May: ????
June: ????
July: ????

August: ????

September: ????

October: ????

November: ????

December: ????